Content:
OLCOS Tutorial workshops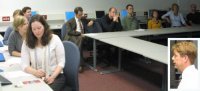 In April and in June 2007 the OLCOS consortium organised six workshops in which the team presented OLCOS and its diverse services - in particular the five OLCOS Tutorials: "Search & Find OER", "Produce & Remix OER: author and modify", "Share OER: publish and re-use", "Choose a license" and "Use open source tools".

The workshops were organised in different countries and with a wide range of target groups:

The first and the second workshop took place on the 17th of April within the frame of the conference Third EduMedia Conference in Salzburg/Austria.
The third one was organised on the 1st June at the Universitat Oberta de Catalunya/Spain for university staff as librarians, instructional designers and educational content managers.
The fourth workshop was conducted on the 5th June at the Universitat Autònoma de Barcelona/ Spain for students of the following fields of study: journalism, computer science and documentation.
The fifth one took place on the 11th June at the Universitat Politènica de Catalunya/Spain for university staff like instructional designers, librarians and lecturers.
The sixth one was organised at the FernUniversität Hagen/Germany on the 21th of June for experts within the fields of e-Learning, higher education, professional training and teacher education.

Overall 89 persons participated and gave within discussions and through questionnaires a positive feedback concerning the five Tutorials. They were described as informative and motivating. Further helpful suggestions concerning the usability were checked by the OLCOS team.

Further feedback is welcome. The OLCOS Tutorials are work in progress. Please find the Links within the category "Tutorials".