Content:
OLCOS Roadmap 2012 released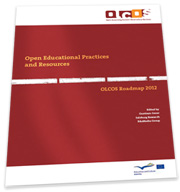 The OLCOS project consortium is pleased to announce the release of the Report "Open Educational Practices and Resources: OLCOS Roadmap 2012".
This report is based on research work, expert workshops and other consultations with many international projects that promote the creation, sharing and re-use of Open Educational Resources (OER).
The OLCOS road mapping work was conducted to provide decision makers with an overview of current and likely future developments in OER and recommendations on how various challenges in OER could be addressed.
The report covers the following areas:
Policies, institutional frameworks and business models;
Open Access and open content repositories;
Laboratories of open educational practices and resources.
For each of these areas, drivers/enablers and inhibitors of OER and open educational practices are identified and described in detail. The results are summarised in Roadmap Briefs, which may be used as starting points for discussing initiatives in OER and open educational practices on a strategic level.
Based on the road mapping results the report also provides a set of recommendations for the following decision makers and stakeholders:
Educational policy makers and funding bodies;
Boards, directors and supervisors of educational institutions;
Teachers;
Students;
Educational repositories;
Developers and implementers of e-learning tools and environments.
The OLCOS project welcomes comments on the report as well as the opportunity to establish cooperation with other ongoing projects and new initiatives in OER and open educational practices.
Please find here the Roadmap as PDF-Document
Feedback
Please let us know your opinion about the Roadmap 2012 by filling out the questionnaire. Thank you very much!