Content:
OLCOS participated in the EACEA Cluster Meeting of eLearning and Minerva projects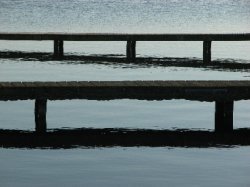 On the 5th of March OLCOS participated in the Cluster Meeting of eLearning and Minerva projects which was organised by the Education, Audiovisual and Culture Executive Agency (EACEA) and held in the premises of the Ministry of the Flemish Community, Department of Education and Training in Brussels.
The EACEA's objectives for the meeting were to provide the participants with information on the latest developments at the European Community level (e.g. the rollout of the Lifelong Learning Programme), to facilitate exchange of experience and awareness of subjects of common interest among ongoing and newly started projects, and to reflect on good practices in management, evaluation and dissemination & exploitation.
With respect to important subjects of common interest the following have been identified: innovation & new methods, content & resources, equity & social inclusion and creativity & inquiry. OLCOS participated in the session on content & resources which was chaired by Brian Holmes (Head of Unit, EACEA).
Our presentation concentrated on some of the observations and recommendations on Open Educational Resources (OER) and practices of the OLCOS Roadmap 2012. In particular, the presentation addressed the two content and service paradigms of OER repositories versus Social Software tools & services based creation and sharing of learning content.
Two further presentations were given by Frans van Assche from the European SchoolNet on the LIFE project and Fabio Nascimbeni from the MENON Network on the European Foundation for Quality in eLearning (EFQUEL). Van Assche emphasised the importance of standards and the interoperability for OER and Nascimbeni suggested establishing a special interest group on OER in the framework of the EFQUEL.
Downloads:
OLCOS presentation at the EACEA Cluster Meeting, session: Content & Resources
More detailed presentation of the OLCOS Roadmap 2012
Links:
Education, Audiovisual and Culture Executive Agency (EACEA), http://eacea.ec.europa.eu
European Foundation for the Quality in eLearning (EFQUEL), http://www.qualityfoundation.org
LIFE project, http://life.eun.org